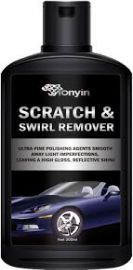 SCRATCH & SWIRL REMOVER
Directions:
1.Before use, please wash and wipe the car to be dry.
2.Use a soft cloth to coat it evenly and thinly on the body of car and grind moderately back and forth, do not grind irregularly
3. When the grinding agent is in the state of film, use a clean dry towel to wipe gently the body of car.
4. Recommend bright polished crystal wax to protect the restored paint film to avoid re-oxidation to obtain the best effect.